Hosted by Brian A Cohen DTM
On Facebook page Brian A Cohen DTM
516/631 Ads David Gussin weekly networking events
Alex Elie -The Blogging Ace – entertainment events
VOTE DAILY Best of Long Island
My favorites are
ECNY Foundation Maria Frey – Not for profit
Scrap-It Orville and Cynthia Davis – Website Based Business
Communication Strategy Group Arthur Germain Public Relations Firm
Harper Marketing – Web Services
Independent Womens Network Sue Glenn – Networking Group
Terri Magro Michael Magro Foundation – Philanthropist

Monday November 16th 2020
8:30am
Donna Ciminna Sirianni joins Steve Harper and Leanna Costa on Party 105.3 for her inspirational thoughts to begin the week – click on Party 105.3 for Steve and Leanna

9-10:30am
NYS Small Business Development Center at Stony Brook
Digital Marketing Bootcamp with Henry Bramwell, Part 4: Demonstration of Online Tools

12:00 – 1:30pm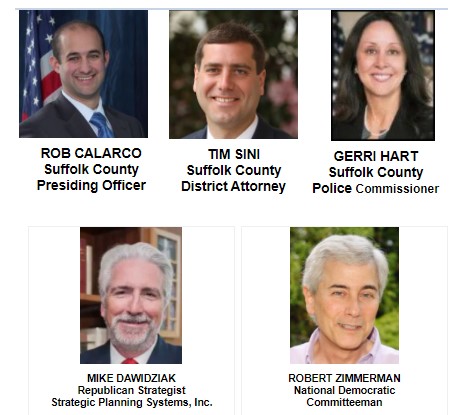 Suffolk County Alliance of Chambers invites you to this special meeting. You need to a a member of a Suffolk Chamber
Please register


3:00pm
Darren Cioffi Show on LI News Radio
Tune in at 3pm est Listen live on 103.9 FM
or
JVC Broadcasting
The Darren Cioffi Show
Speaker, author, accountant, leadership and operational expert. Darren Cioffi founded CBMS Consulting Services to help entrepreneurs and small business owners achieve extraordinary success.He is a certified business consultant and Profit First Advisor. Website
Listen online or at 103.9 fm #LINEWSradio #JVCBroadcasting
3:30PM
Kevin Boston Hill Instruction Discussion
When KBH Speaks people listen! Kevin's guests will include leaders in the Education Profession from Elementary School to Higher Education focusing on the whole child.
Kevin Boston-Hill: Kevin.BostonHill@gmail.com or visit KBHSpeaks.com.
Listen Here Mondays at 3:30pm IHeart Radio

Tuesday November 17th
12PM
Lunch with 516/631 ads – real people – real faces all wearing real masks
516Ads/ 631Ads is proud to team up with Deirdrea Renwick – Gott Management Services, Linda Fostek – The Crisis Planner, Undercut Junk Removal, our friends @ Cida Sew Shop and event sponsors Jeff Bloch – Dispatch Digital Concierge, Mike Brothers – Medicare Mike & Gerry Dolan – Farmers Insurance to host our Rebuilding Business Luncheon @ The Heritage/ Bethpage State Park. We will follow all CDC and NYS Regulations; you must wear a mask. $25 per person. Please RSVP. Hope to see you there!
David Gussin igniting business – safely and consistently

12:00-5pm Est
Eventhub presents a FREE summit
We will bring together professionals at major events across sporting, festivals, fairs, and trade shows to deliver best practices for virtual and hybrid programming as well as share insights on how to approach 2021 planning for large consumer and b2b events. We'll also have a track offering essential EventHub platform feature training and best practices for those who are interested!
Register for Free here!
Program content will include:

An opening keynote panel with leaders representing a major marathon, fair, and festival.
Expert breakout sessions in sponsorship, operations, and attendee ticketing/marketing.
Regional and topic-based peer-to-peer roundtables.
A closing session unpacking how Conventures successfully produced a virtual format for the historic Boston Marathon Expo.
A live expo session introducing some of the best vendors and resources for virtual, hybrid, and live event production that serves as the kick-off to our year-round, free vendor marketplace. Vendors also are given free participation by invitation, based on references and staff vetting.
1:30 PM to 2:30 PM
Downtown Houston Toastmasters Zoom Meeting!!
ZOOM MEETING LINK – We do ask that you join audio AND video
! Late attendees will wait briefly in the Zoom waiting room until the next applause so as to not interrupt a speaker. Join Zoom Meetinghttps://us02web.zoom.us/j/84819999027?pwd=Vml3NG11bFJGN0NveTJoZFAvdGNYZz09
Meeting ID: 848 1999 9027Passcode: 212750
ANNOUNCEMENTS AND HELPFUL INFO! PLEASE READ!!
WE WILL NOT HAVE A MEETING ON NOVEMBER 24 due to the Thanksgiving holidays. Meetings will resume on December 1.
Are you a first timer and have no idea what to expect at a Toastmasters meeting? Get ready to connect, communicate, and clap! This link is a WONDERFUL explanation of What to Expect at your First Toastmasters Meeting. https://www.toastmasters.org/magazine/magazine-issues/2020/may/what-to-expect-at-your-first-tm-meeting
Toastmasters Club Meeting Roles Explained
https://www.toastmasters.org/membership/club-meeting-roles
Toastmasters International Online Magazinehttps://www.toastmasters.org/Magazine/

Wednesday November 18th
TWO DAY EVENT
Honestly I don't know what to expect – could be a good thing
FuzeHub's 4th Commercialization Competition is completely virtual this year. In order to keep the Competition as interactive, fun, and innovative as possible, we are using Remo as our event platform.
What to expect with Remo.co
FuzeHub is using an on-line platform called Remo to provide participants with an experience that is similar to a tradeshow or conference in the physical world. Remo is a virtual workspace with tables, chairs, and an event stage along with video conferencing and on-line chat.
Learn more about Remo.
After Event Registration
After event registration, you will receive a Remo event link; go to that link and create an account. You can create the account anytime prior to the day of the event. Once you've created your account, you can build out your profile to include your name, company, title, email, and LinkedIn link. This will make it easier to connect and network with other attendees.
There will be a follow-up email with the Remo event link on the day of the event for easy access.

10:00-11:00am est
The Mergent Suite of Databases
Miller Business Center
Take a look at some of the great resources and the important data available to you as a small business owner through the Mergent Suite of Databases available at the Center, including Mergent Intellect and First Research.
Register here – complimentary

12 pm (edt)
12:05 – 1:15pm Elie – Eastern Long Island Entrepreneurs at 12:05
Wednesday lunch meeting Join us for our Weekly Online Zoom Business Networking Events as Brian A Cohen Dtm​ & Alex Charles Maurice Elie Co-Host the Eastern Long Island Entrepreneurs Online Networking Meeting Virtually on Zoom Zoom Meeting Link ~https://zoom.us/my/thebookingace
Zoom Meeting Link ~ https://zoom.us/my/thebookingace

7:00pm
Darren Cioffi and Norman Wasserman The Business Power Hour
The Business Power Hour

Toastmasters to Professional Speakers
RSVP: https://bit.ly/TMtoProSpeaker
Happening on Zoom at 18:00 (GMT+2) Wednesday, 18th November 2020.A TedX speaker, a PSASA Speaker Factor winner and the host of Cope TV share their highs and lows, tips and tricks, as well as what they have learned along their journey.
Thursday November 19th
6:00pm
Toastmasters Speech Contest
Humor and Evaluation
You would be a guest at this event – no participation as this is a contest meeting.
7:00 – 8:00pm
Yung Hip Professionals & Shades of Long Island
Presents: The Call to Creation How Creatives/Innovators/Game-Changers are Making Moves on Long Island and Encouraging Others to Do the Same.
Ms. Tee Talks Panelist: Miya Jones- Editor in Chief, Shades of Long Island Bryan Glick- Entertainment Advisor, Covert Connector Nikki Pebbles- Founder, Rock Your BodyJose "JT" Tutiven- Founder, Colored Colors
Register Here – Complimentary
Friday November 20th

Thank you Sue Glen for your November marketing ideas
Free Business Resources
Miller Business Center
Small Business Development Center
Brookhaven IDA
Suffolk County Alliance of Chambers
SCORE Networking Resources
LinkedIn Learning
Event Listings
The Blogging Ace
516/631 Ads David Gussin
Newsday
Long Island.com
Discover Long Island
Long Island Advancement of Small Business
Brian Cohen – Page Links
FaceBook Page Brian A Cohen DTM
Brian Personal site – includes volunteer activities
Long Island Speakers Bureau
Toastmasters – StonyBrook SpeechWolves
Brian Cohen Contact
631-255-3581
brian@lispeakers.com
Long Island Speakers Bureau – Professional Speakers and Trainers
Strategies of Success – Hosting, Interviews and Podcasting services
Toastmasters– Non-Profit Public Speaking Organization
Crohn's and colitis Foundation – Non-profit